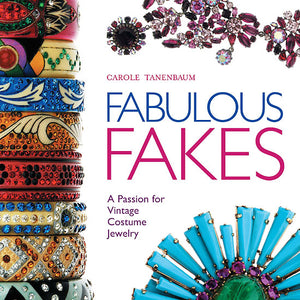 Fabulous Fakes: A Passion for Vintage Costume Jewerly showcases some of the most brilliant and beautiful vintage costume jewelry ever designed – from the Victorian era to the present. Curator and connoisseur Carole Tanenbaum invites you on an unforgettable tour of her private collection, complete with stunning photographs and an insider's look at the history of costume jewelry.
Out of Print. Signed by Author.
Produced by: Madison Press Books
Published by: Artisan, A Division of Workman Publishing, Inc. (January 2006)
Language: English
Details: Full colour, 224 pages, 8.5" x 8.5"