Carole Tanenbaum Vintage Collection is one of North America's premiere collection of vintage costume jewelry. Featuring only the highest quality treasures, the collection includes one-of-a-kind, limited edition, and designer costume jewelry pieces.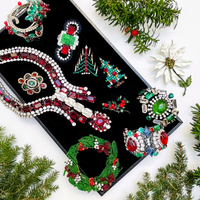 Festive Monday Collection🎄
This weekly feature showcases under the radar treasures from our one-of-a-kind collection.

Vintage jewelry is the perfect gift for those who appreciate the beauty of the past. Here is the sweetest round-up for your Monday perusal. Buy 2 or more pieces from this tray and we will offer group pricing.
DM us on instagram or contact us by email to purchase.